Villicana Winery invites you to enjoy...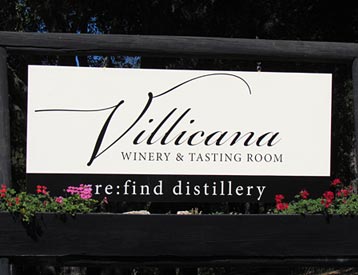 the limited production, award-winning wines produced by our family owned and operated winery. We produce approximately 2,000 cases per year, which allows proprietors Alex and Monica Villicana to handcraft each vintage and create a superior wine.
We personally planted our 13 acre vineyard and continue to farm it with an emphasis on maintaining low yields which produce intensely concentrated fruit. By doing this we are able to ensure that only premium grapes are used to produce our memorable Estate wines.
Our tasting room is nestled in the corner of our working winery so ambiance is abundant. You literally experience the on goings of the winery. And, true to the charm of a small, family winery, the proprietors are usually behind the bar personally answering questions. If you are looking to picnic, we have a peaceful setting for you to enjoy.
Holiday Schedule
November 23rd - CLOSED
December 24th - CLOSED
December 25th - CLOSED
December 31st - CLOSED AT 3:00 PM
January 1st - 10th - CLOSED
Come experience the dream!